The Centers for Disease Control and Prevention (CDC) is reporting that the number of Cryptosporidium outbreaks are on the rise.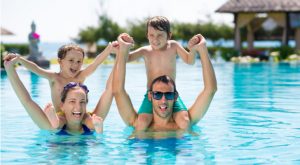 Source: Shutterstock
Cryptosporidium, also commonly called Crypto, is a type of parasite that causes diarrhea in its hosts. The parasite typically stays in the body for roughly one to two weeks, but can survive for up to 30 days. It is the most common cause of waterborne disease in humans living in the United States.
Reports from the CDC say that the number of Crypto cases in the United States are increasing. The parasite was responsible for 16 outbreaks of waterborne diseases in humans in the United States in 2014. However, that number doubled to 32 outbreaks in 2016.
Crypto is transferred between people when a person carry the parasite enters a body of water. This includes swimming pools, as the parasite can resits chlorine and live for up to 10 days. It then transfers into another person when they ingest liquid from that body of water, which tends to happen while swimming, reports >WZTV.
Those that do end up catching Crypto while out this summer can try and ease their suffering. The CDC recommends staying hydrated to avoid dehydration. It also says that a well-balanced diet can result in a more speedy recovery. The group also notes that those infected should avoid drinks with caffeine, as well as alcohol.
You can follow this link to the CDC's page for Crypto to learn more about the parasite and how to avoid it.
Source : http://investorplace.com/2017/05/cdc-crypto-cryptosporidium/